HOLLEY 1050 CFM DOMINATOR GASOLINE RACE CARB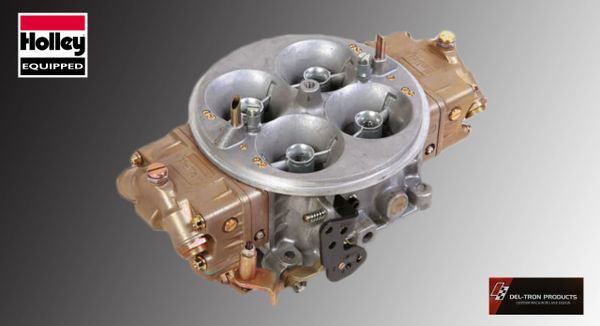 HOLLEY 1050 CFM DOMINATOR GASOLINE RACE CARB
DEL-TRON PRODUCTS Holley 1050 carb
Part No. DEL-HLY0-8896-1.
1x4 Gas 3-circuit metering -4500
The Classic Dominator carburetors are available in 2 or 3 circuit configurations and your choice of 1x4 or 2x4 set-ups.

Gold Dichromate finish on fuel bowls for corrosion resistance
Race only calibration
Contoured venturri inlet offers balanced airflow for increased horsepower
Annular Boosters deliver excellent signal and throttle response
Screw in air bleeds offer precision tuning capabilities
4 corner idle allows you to precisely control your idle system
Progressive Secondaries for perfect off the line launches
Dual 50cc accelerator pumps provide the perfect amount of fuel from idle to full throttle
Dual fuel inlets for constant high volume fuel delivery
Fuel bowl can be plumbed from either side for ease of installation
Includes notched float and jet extensions
100% wet-flow tested by Holley technicians to assure it arrives ready to run!