DART BIG M IRON BBC BARE PERFORMANCE BLOCK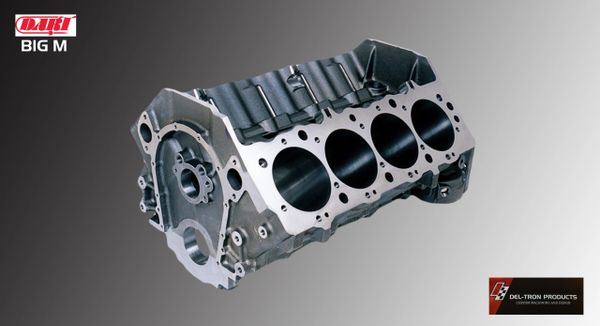 DART BIG M IRON BBC BARE PERFORMANCE BLOCK
DEL-TRON PRODUCTS  Dart Big M Iron block
Part No. DEL-DRT31213444
Dart Big M High Performance Big Block Chevy cast iron bare blocks are designed for high performance and heavy duty applications. Old part no.31263444. These blocks are an ideal starting point for hot rodders, drag racers, circle track competitors, off-roaders and high performance marine enthusiasts. Block material 220 BHN cast iron. Bores unfinished to 4.490"/Max bore diameter 4.625"/Max stroke 4.750"/Deck height 9.800"/Billet steel main caps/Standard cam locations/Block weight 260-280lbs/Special order process time 1-2 business weeks.
• Standard 9.800" deck heights.
• Standard 4.500", bore sizes with siamesed extra thick cylinder
  walls to resist cracking and improve ring seal (minimum .300" thick with 4.625" bore
• Uses +.300" tall Gen VI style lifters. 842" Diameter Modification for Gen IV style available.
• 4-bolt main bearing caps in steel or Ductile Iron have splayed outer bolts for extra strength.
• True priority main oil system lubricates the main bearings before the lifters. Our stepped
 main oil gallery (9/16" to 1/2" to 7/16") increases the flow of oil to the crank at high RPM,
 and our front oil crossover eliminates internal oil leaks around the distributor shaft.
• Lifter valley head stud bosses prevent blown head gaskets.
• Dual oil pan bolt patterns fit standard and notched oil pans.
 Mechanical Fuel Pump Provision
Please e-mail with questions