DART LS NEXT 427 CID IRON BLOCK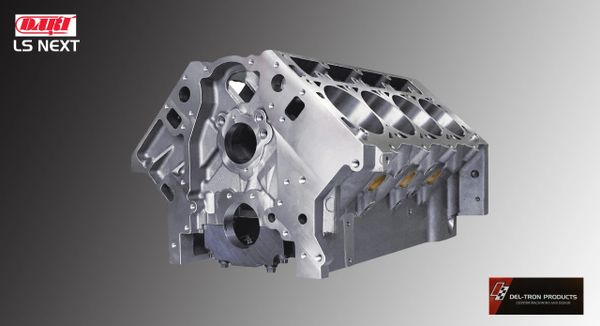 DART LS NEXT 427 CID IRON BLOCK
DEL-TRON PRODUCTS  Dart LS Next Gen 3 Block
Part No. DEL-DRT31867211
Dart SHP GM LS Next GEN 3 High Performance bare blocks full skirt designed, high performance and heavy duty applications. These blocks are an ideal starting point for hot rodders, drag racers, circle track competitors, off-roaders and high performance marine enthusiasts. Block material Class 30 grey iron. Bores unfinished to 4.115"/Max bore diameter 4.185"/Max stroke 4.125"/Deck height 9.240"/Billet steel main caps/Standard cam locations/1-piece rear main seal/Block weight 227lbs/Special order process time 2-4 business weeks. (Bank wire transfer or check only.)
• Dart priority main oiling system with provisions for stock oil filter mounting.
• Accepts factory and aftermarket oil pans.
• Siamesed cylinder bores with thick walls.
• Cylinder barrels extended .375" at the bottom of the bores.
• Thick decks ensure reliable head gasket seal.
• Blind head bolt holes available in 7/16" or 1/2" upgrade option.
• 6-bolt per cylinder capability.
• Scalloped water jackets increase flow around cylinders for better cooling.
• Clearanced up to 4.100" stroke w/ steel rods.
• Clearanced for center counterweighted crankshafts.
• Splayed outer bolts on middle main bearing caps.
• Provisions for LSX roller lifters and cam.
• Uses OE front and rear covers.
• All OE bolt holes for starter, water pump, etc.
Please e-mail with questions