B&M FORD C6 SHIFT IMPROVER KIT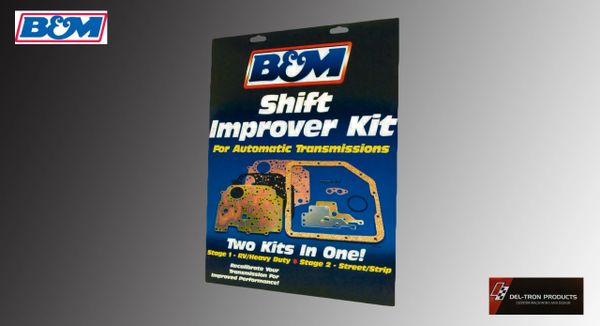 B&M FORD C6 SHIFT IMPROVER KIT
DEL-TRON PRODUCTS  B&M Ford C6 Shift Kit
Part No. DEL-BMM40262
Automatic Transmission Shift Kit, Shift Improver, Ford C6 '1967-'91, Performance made easy! The B&M Shift Improver Kit is a simple and affordable way to get the performance you have always wanted from your transmission. Choose between two configurations: Heavy Duty, or Street/Strip. With some simple hand tools and an afternoon, you can have 60 years of performance tuning built into your transmission. B&M transmission performance has never been so attainable.
STAGE 1. HEAVY DUTY
Firm, positive shifts without loss of passenger comfort for improved
performance in all street vehicles. Recommended for normal
passenger vehicles and tow vehicles.
STAGE 2. STREET/STRIP
Provides positive shifts for high performance street use or
competitive events. This configuration is for the enthusiast who
wants hard, fast shifts
Please e-mail with questions