ARP ROD BOLT STRETCH GAUGE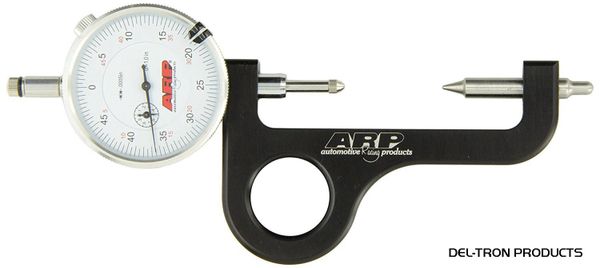 ARP ROD BOLT STRETCH GAUGE
DEL-TRON PRODUCTS

ARP Rod Bolt Stretch Gauge


Part No.

ARP 100-9942


Includes: One (1) ARP Rod Bolt Stretch Gauge, storage case, and

instructions. 
Using a Rod Bolt Stretch Gauge when installing rod bolts and other
fasteners is highly recommended whenever it is possible to measure
the length of the bolt after torquing. Verifying with a stretch gauge is the
most accurate way to determine the correct pre-load in the bolt. ARP
recommends you maintain a chart of all rod bolts, and copy down the
length of the fastener prior to and after installation. If there is a permanent
increase of .001 in length or more, or if there is deformation, the bolt


should be replaced immediately. 
Please e-mail us if you have any questions.