SUPERFLOW SF-110 FLOW BENCH W/ FLOWCOM MOTOR CONTROLLER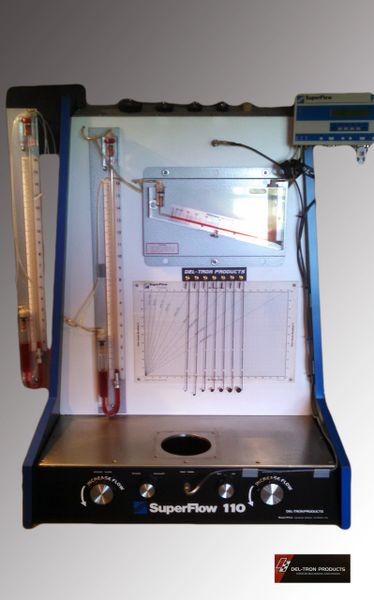 SUPERFLOW SF-110 FLOW BENCH W/ FLOWCOM MOTOR CONTROLLER
DEL-TRON PRODUCTS


Superflow SF-110 Manual Flow Bench with flowcom
Part No.
DEL-SF110BFC
Refurbished Superflow SF-110 portable flow bench with flowcom computer and motor controller, (regulates test pressure based on input from flowcom). Upgrades add to this bench are 16" well type  manometers, flow control knobs sticker kit, Deltron Products 7 piece flow ball set, calibration plate, and Owner's Manual. These are a great starter flow bench for a person getting into flow testing. Flow bench Specs are 9 flow ranges 0-185 cfm accuracy +-1% full scale repeatability +-0.5%. Capacity 160 CFM @ 10" test pressure. Dimensions 28"wide X 20" deep X 36" high and a weight of 100 pounds. Power requirements 110 volts AC 15 amps. Will ship with in the continental united states only, process time 2-4 business weeks. Note this item will have a custom Black wood crate built for shipping so it reaches it designation safely.
Please e-mail us if you have any questions.